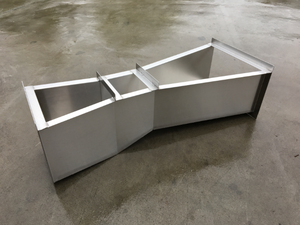 18-inch Parshall Flume
Description:
The 18-inch Parshall flume is useful for measuring both water rights / irrigation flows as well as surface water and edge of field flows.
Aluminum Parshall flumes are lightweight and abrasion resistant and are an excellent choice where site access is limited and portability is a concern.  Their light weight means that aluminum Parshall flumes generally require less manpower and equipment to install versus other flume materials.
Material of Construction:  
Flow Rates:  
0.1738 - 24.56 cfs (cubic feet / second)
78.02 - 11,021 gpm (US gallons / minute)
0.1124 - 15.87 mgd (US million gallons / day)
Flow Accuracy:
Flow Formula (H = feet):
Q (cfs) = 6 * H^1.538 
Q (gpm) = 2,693 * H^1.538
Q (mgd) = 3.878 * H^1.538
Head:
0.10 - 2.50-feet
1.20 - 30.00-inches
Flow Dimensions:
Inlet width:  40 3/8-inches
Throat width:  18-inches
Outlet width:  30-inches
Length:  115 7/8-inches
Inlet height:  36-inches
Throat height:  45-inches
Outlet height:  39-inches 
Installation:
Level:

Front-to-back and side-to-side

Upstream requirement:  

Upstream channel straight at least 22 1/2-feet

Downstream requirement:  

Free-spilling discharge or downstream channel straight at least 7 1/2 to 30-feet
Shipment:
4-6 weeks from order
Palleted
Box truck
Get FREE

 domestic shipping (select at checkout)!

Appointment delivery included (get it delivered when it's convenient for YOU)!

Make sure you can offload prior to ordering

International orders require additional shipping charges